Registration for this year's Regional Dandelion Gathering is now closed.  Please join us for WitchCamp next year, October 17-24, 2019.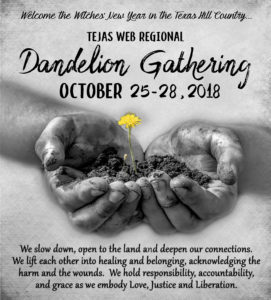 Our 2018 Regional Dandelion Gathering will be an opportunity to continue the work that has been growing in our community for the past few years. It is the work of slowing down, listening, healing and changing. We invite you to join us as we connect with the Texas Hill Country land, with each other, and with ourselves. We will offer the opportunity to gently explore and peel away layers of ancestral and personal traumatic conditioning. In the warm embrace of community, we will build the magical infrastructure of belonging. We will reclaim and share family and cultural stories of connection and wholeness.
Our intention is: We slow down, open to the land and deepen our connections. Acknowledging the harm and the wounds, we lift each other into healing and belonging. We hold responsibility, accountability, and Grace as we embody Love, Justice and Liberation.
Our Ancestors and the spirits of the land have been clear with us to act with care as we clean up our past and present. We know that even though our intentions are good, we sometimes cause pain and harm, to other people, other beings, to the earth, and even to ourselves. Now is a time to slow down and allow for healing. It is time to connect in Community. Time to reach our roots deep into Earth. Moving from a place of love, accountability, and Grace, we will go forward to make positive change in the world.
The structure of Dandelion Gathering is flexible and easily holds the opportunity for deep work, along with a variety of activities, magic, and fun. Join us for Reclaiming-style Ritual, Ancestor Magic, Drumming and Dancing, Family and Community, Children's Activities, and Hikes in the Wild with the Spirits of the Land.
Limited space, so please register now.
Early Bird discounts available through June 20.
Ask us about financial assistance.
Witches of color encouraged to apply.
Registration fees include organic and locally-grown food and comfortable accommodations. The venue has comfy indoor beds, secluded tenting, plenty of bathrooms, and even a hot tub for adult use.
Visit this page for accessibility information.
Drug-free and Alcohol-free gathering.
You can either register online or print and mail the registration form.
The Dandelion Organizing Group is committed to making this gathering a welcoming space. We believe that communing together, building authentic relationships, embracing love, joy and our collective power to heal ourselves and bring justice in the world is the best antidote to our culture's violent legacy and current practices of settler colonialism, racism and white supremacy. These isms are the underlying causes of the pain and trauma within us all. Be a part of the transformation! A shift toward listening, connected accountability and healing to cleanse and create healthy behaviors in our lives, for the land and to bring relief to those most impacted … this is what our ancestors have called us to do. We are working with intention and awareness to make this a safe and welcoming space for all.
For more information contact texaswitchcamp@gmail.com
Also please hold the dates for our next Tejas Web WitchCamp October 17-24, 2019. This camp offers a week between the worlds in an intensive of Reclaiming magic and training. Lots of ritual, practical tools, personal healing, time in nature, and deepening of community. Tejas Web has previously created 16 camps at a variety of venues in Texas.