We are pleased to announce our teaching team for Tejas Web WitchCamp 2017:
Matthew, Teri Parsley Starnes,  Juniper, Gwion, sisalfierce, Sayre, and Cat Dancing.
Matthew
Matthew is a queer witch, priestess, dancer, dreamer, and Tarot devotee.  Grateful for the discovery of Reclaiming, Matthew's life path is leading him towards a deep love and connection with Mother Earth, the Elements, and exploration of allies and divinity, and the myriad forms and shapes they take in his life.  He is also interested in exploring activism through witchcraft.  Matthew feels deeply blessed to have found Tejas Web, and has been a part of the community since 2012.  He has helped organize two regional Dandelion gatherings, priestesses public rituals, and was a Spinner for Tejas Web's 2015 Through the Looking Glass Camp.  Matthew also loves to teach, which for him is one of the best ways to expand and deepen his own spiritual practice (this year also happens to be his Hierophant year).  He is looking forward to student teaching for the first time at a WitchCamp, and certainly looking forward to working with Hekate!

Teri Parsley Starnes
We've been heading to the crossroads for a good long time. The messages, signs, and omens have repeatedly told us that change needs to happen. We've now reached a critical juncture. Our choices matter. Our magic is essential. I am honored to be invited and a little awed by the possibilities of the Tejas Camp theme. I've loved and worked with Hekate for many years. I am eager to hear what she has to say to us at the crossroads. I expect it will be transformative for me and I hope for us all. A little bit about me: I've been a Reclaiming Witch since the mid-80s. I am in my early 60's. I call myself Hag and Hedge Witch. I live in Minneapolis, Minnesota where the Mississippi River watershed anchors our magic to the beautiful land of the Midwest. However, I was born and raised in Texas and am thrilled to finally come to Tejas Camp! I am an astrologer and can already hear Hekate saying to us all, "Come to the crossroads with your tools of divination." I am fascinated by the challenges of Community. Our communities are essential to the healing choices we may need to make as we go forward. I believe we are all Priestesses when we are in service to the sacred. My teaching and work is anchored in the realization that we are inter-connected—together we are greater than the sum of our parts. Let us make healing magic together!

Juniper
I believe in the initiatory arc of transformation; in the power of the crossroads for each of us as individuals and all of us as community. I am dedicated to transformative liberation from racism, colonialism, and capitalism. Liberation not through delusion, denial or disavowing. Liberation by standing in the fire of resistance and speaking a spell that was on the lips of witches as they walked to the fires of the burning times. By remembering that we are descended not only from those who stepped into the flame; but that our ancestors also lit the fire. By remembering what has been sacrificed and what is worthy of our lives.
I am dedicated to a journey that embodies grounding, listening, non-judgmental curiosity, humility, vulnerability, and compassion for self and others. My magical tools have been forged in witch camps, in classes, and in my personal practice, but also in courtrooms, in tear gas, on the steps of the Journalist's Syndicate in Cairo, in legislative hearings, the Capitol rotunda, and on a cold hard cot in the Travis County jail.

Gwion
I've been a practicing witch and ritualist within the Reclaiming Tradition since 2003. I love being in service with this community of witches and world changers.
My own magic, my own way of changing the world is through devotional practice. It's my belief that we can re-enchant our lives by re-framing the so-called "mundane" as sacred and divine. By imbuing the familiar with a sense of wonder and infusing daily life with acts of magic, I choose to make all of life devotion.
My facilitating style incorporates all sorts of weird and wacky combinations (I thank my teachers and my teacher's teachers for this!). I'm especially fond of music and movement – as much or as little as our bodies can do in the moment. The human voice is an incredibly expressive and magical tool, so I love to experiment with sound, singing, making guttural noises, speaking gibberish, and creating on-the-fly poetry.  Drumming is a big part of my practice too. I love folding in clapping, stomping, rattle-shaking and banging pots and pans together in order to create sacred ritual. Embodied and intentional stillness play a part in learning the practical magical skills of witnessing and listening. And, of course, Mystery is met with a mix of reverence and sacred silliness.  As one of my dearest mentors says "Magic is not a metaphor and has the power to transform our lives."
I am honoured and excited to be coming to Tejas Camp. What a privilege it is to learn from and work with each one of you.  The stories of Hekate, the Queen of the Witches, of finding ourselves at the crossroads face with many choices is just so fascinating and delicious and the work of our time. If you are remotely interested, you can learn more about me at www.tobeawitch.com.

sisalfierce
I have been a witch and ritualist for 25 years, active in Reclaiming, through the California community and the Tejas community, for eight years. I'm a musician, death worker, gardener and brew witch. Those are ways I heal myself, and may be ways others find support in healing through work they do with me. I'm a change agent called to other ways of knowing – trance facilitation and mentoring, shadow work, hypnotherapy and tarot. In recent years I've become a champion for sustainability in my own life and in my communities, and I blog about that at sustainablewitch.com

Sayre
I am honored and excited to be a part of co-creating camp at the Crossroads this year with you all, even though it means I'll have to be away from the sweet steady sheep, bossy chickens, exuberant trees, and rolling hills I love in Northern California.
I'm trying to figure out what to pack, which is by far the hardest part of any witchcamp for me.
Because we'll be working deeply with the Land and Hekate to cultivate magical tools I'm going to bring some things from the farm where I live that I think will come in handy.  Specifically, I'll bring some seeds of presence, an ear or two of deep listening, an unbounded and subversive imagination, along with a fresh bunch of attention and some bare-root awareness. Somehow I'll also find room in my bag for a suit of delighted embodiment, some rhizomes of resourcefulness, and a bouquet of adaptability.  Possibly a pitchfork of patience for turning things over slowly and deliberately. Definitely a pair of pruners of perception for cutting back the vines of oppression and injustice.  I'll also bring some shovels of curiosity we can use for digging in our cultural soils and revealing the roots of things, a whetstone of who/what/how/why so we can hone our questions, and some twine of interdependence to keep everything connected.  And last but not least a deep, still center, which, in my experience, is just as good as rooting hormone for staying grounded and tapping into right relationship.
Last time I checked, choices were growing wild at the Crossroads, so I'm not bringing any of those.  If we're lucky Hekate may even be willing to help us figure out what ones are edible and ripe.  And with deep faith and gratitude, I know that the sun and the rain and the wind and earth and the rhythm of the seasons will be there waiting for us to show up.  I'm looking forward to seeing you there and to the magic that will unfold…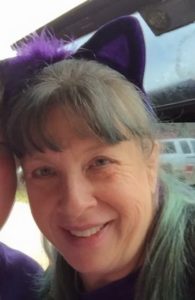 Cat Dancing
Cat Dancing has been a Reclaiming witch and teacher since 2000. In collaboration with other teachers, she helped create and co-teach the Art of Ritual series and Priestess Training workshops. Active in the Tejas Web community, Cat has been co-creating public and private rituals in many settings, teaching and encouraging others to step into roles of Priestess and leaders. She taught Elements of Magick at Village Camp and the Dwarves and the Dreamer Witch Camp. Her teaching skills include trance leading, ritual creation, story telling, connection with the elements and the natural world, spell craft and leading spiral dance.
An avid, long time student of the tarot, Cat Dancing teaches workshops and classes on tarot, including a 5 year long monthly coaching group based on tarot. She has invented a vast number of tarot spreads which she plans to eventually bring together in a book.
As a multi talented, self employed artist she creates intarsia and stained glass which she sells primarily at Sherwood Forest Faire and other venues.
Cat Dancing is an initiated Avatar Wizard who loves helping people discover who they truly are and recognize their true power as Source Beings.  She is an environmental and animal rights activist who co-directs a non profit cat rescue.
It is Cat Dancing's belief that changing the world for the better happens one person at a time.