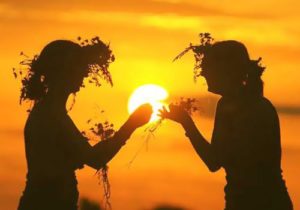 Greetings, Beloved Witches and Allies,
You are warmly invited to gather on Sunday, June 23 at 10 a.m. for the Tejas Web Summer Solstice Ritual, at the meadow along Shoal Creek Trail, across the creek from the Shoal Creek Gazebo (details below). The intent for this ritual is:
We call on the light of the sun to seek ancestral healing of what is and was, for the descendants that shall be.
The ritual will involve ancestral healing work that offers healing to the ancestors, and to ourselves, and then sends that healing to our descendants. It is loosely based on the work of Steven Farmer (drstevenfarmer.com). The ritual should end around noon, and those who can might want to go to lunch together afterward.
Please remember that all Tejas Web gatherings are drug and alcohol free.
WHAT TO BRING
We'll be trancing; you are welcome to stand, dance, move or walk during the trance, or you might bring a mat or blanket if you want to be on the ground. Please bring a journal and pen to record any images or insights you received in the trance. We will be making an offering to the ancestors – please bring a bit of fruit, honey or other offering that we can offer to the ancestors, and leave on the land when our ritual is done.
ATTENDANCE BY CHILDREN
Children who can co-exist with us in a way that allows the group to trance are welcome.
LOCATION
This is a good location for ritual and trance – relatively quiet, with shade, and a definite feeling of the wild. You can view a map of the area here. You can also use GPS by putting in the address of St. Andrew's Episcopal School at 1112 W. 31st.

Just north of the school, 31st / Shoal Creek Blvd. intersects 34th. Park somewhere near that intersection. Cross to the west side of 31st and you'll see the paved trail – go a little south on the trail to the gazebo, and the creek crossing is to the right, west of the gazebo. The crossing uses rocks and boulders in the creek to cross. If you're concerned about mobility, from the intersection of 31st and 34th, use 34th to cross to the NW side of the creek. Turn left, and there's a paved path that leads southwest to the ritual site.